Novelis Deutschland GmbH
-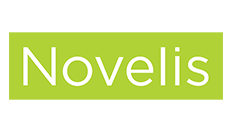 Brief description
Novelis is the world's largest rolled aluminium producer and a global leader in aluminium recycling. Novelis in Europe serves its markets through a network of eleven production facilities in four countries with approximately 6,200 employees. Novelis is a European leader in premium segments such as automotive, aerospace, beverage cans and specialty products such as architecture and construction, packaging, heat exchange materials and other commercial products.
Headquarters
Locations
Germany: Nachterstedt, Göttingen, Ohle (Plettenberg), Koblenz, Voerde
Number of employees
We are hiring:
Fields of study: Engineering, recycling, business administration, logistics management, maintenance
Qualifications: Completed training, Bachelor's or Master's degree
Entry opportunities:
Internships
Working students
Theses
Trainee
Direct entry
Personnel from the following disciplines/faculties are preferred:
Computer Science
Mathematics
Process and systems engineering
Economics
Contact:
Maier, Stefanie
Applications can only be submitted via the career portal.
https://de.novelis.com/careers/