B·A·D Gesundheitsvorsorge und Sicherheitstechnik GmbH
-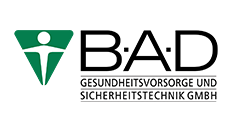 Brief description
As a leading company in health management, we at BAD GmbH have been supporting companies with innovative solutions to promote the health and well-being of their employees for over 40 years. Through preventive measures and individual counselling, we minimise risks and thus maintain the ability to work in the long term. With 3,800 experts, we support around 181,000 companies in Germany with over 4.5 million employees in the various areas of prevention.
Head office
Herbert-Rabius Str. 1a, 53225 Bonn, Germany
Locations
Germany: approx. 150 locations
Number of employees
We are hiring
Specialisations: Safety engineers / occupational safety specialists / safety and hazard prevention studies | human doctors for further training in occupational medicine
Qualifications: Safety and hazard prevention studies | Human medicine studies
We value: Willingness to look after and advise a wide variety of corporate clients
Entry level as: Occupational safety specialist | Occupational physician in further education
Other: For further training in occupational medicine, 24 months of professional experience in patient-centred care is required.
Entry opportunities
Working students (depending on requirements)
Direct entry (depending on requirements)
Our offers are aimed at students and graduates of the following faculties
Electrical engineering, information and communication technology
Mechanical engineering
Medicine
Process and systems engineering
Contact
Martin Hödtke
Applications exclusively via career site or advertisements in job portals
https://www.bad-gmbh.de/karriere/stellenangebote/