BMS Corporate Solutions GmbH
-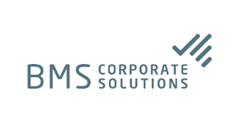 Short description
BMS Corporate Solutions GmbH is a joint company of Atruvia AG and BMS Consulting from Düsseldorf. BMS Corporate Solutions combines IT and corporate client expertise in a joint company. This foundation is motivated by the constantly and rapidly increasing requirements in the business field of corporate clients. The aim is to equip ourselves in good time for the competitiveness of our banks and their customers for the future.
Headquarter
Locations
Germany: Düsseldorf, Magdeburg, Gescher
Number of employees

We are hiring

Fields of study: Computer science, business informatics, economics, product design, finance

Qualifications:Training, studies, first practical experience

We attach importance to: Initiative, ability to work in a team and fun at work

Entry as: Working student, direct entry

Other: Please feel free to apply on our career page at www.bms-karriere.de.
Entry opportunities

Internships

Working student

Theses

Direct entry
Our offers are aimed at students and graduates of the following faculties
Computer Science
Mathematics
Natural Sciences
Economics
Contact
Kristina Winkelmann
Address: Fürstenwall 172, 40217 Düsseldorf
Phone: +49 2113021272139