EDAG Engineering GmbH
-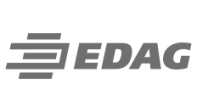 Brief description
As a global and independent engineering partner, the EDAG Group develops solutions in both the automotive and non-automotive sectors. In doing so, the teams not only concentrate on individual components, but also implement complete vehicle development and develop forward-looking solutions in plant engineering.
Headquarters
Locations
Germany: Wolfsburg, Berlin, Fulda, Ingoldstadt, Leipzig, Munich, Stuttgart, etc.
Worldwide:over 60 locations including USA, India, Italy, Mexico, Switzerland, Spain, Turkey
Number of employees
Germany: 5 900
Worldwide: 8 400
We are hiring
Fields of study:Electrical engineering and information technology, automotive engineering, information technology, mechanical engineering, mechatronics, industrial engineering
Qualifications: We are always looking for committed team players and confident personalities. In addition to technical expertise, a high level of motivation, commitment, flexibility and communication skills are good prerequisites for becoming part of EDAG.
We value: ... an environment characterised by appreciation and collegiality. Job security and our good framework conditions support the safety and well-being of our employees and a good work-life balance.
Start as: Intern, working student, graduate, direct entry full- and part-time.
Entry opportunities
Internships
Working students
Theses
Direct entry
Our offers are aimed at students and graduates of the following faculties
Electrical Engineering, Information and Communication Technology
Computer Science
Mechanical Engineering
Economics
Contact
Keune, Svenja
Address: Birnbaumstücke 5, 38448 Wolfsburg
Phone: +49 8458 3238-2480