EDAG Engineering GmbH
-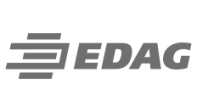 Short description
The EDAG Group is an independent engineering service provider for holistic solutions in the mobility industry. With its interdisciplinary teams of experts, the EDAG Group designs and defines the mobility of tomorrow, innovative technologies for the aerospace industry and Industry 4.0. Globally networked know-how combines with German engineering skills to create innovative and comprehensive development expertise for complete vehicles and production plants.
Headquarter
Locations
Number of employees

Germany: 5,635

Worldwide: 7,880
Branches of industry
Mechanical engineering / Automotive

Services / Transport

IT / Telecommunications

Engineers / Planning offices
We are hiring

Fields of study: Electrical engineering and information technology, mechanical engineering, economics, computer science

Qualifications:

We are always looking for committed team players and self-confident personalities. In addition to technical knowledge, a high level of motivation, commitment, flexibility and communication skills are good prerequisites for becoming part of EDAG.

We attach importance to: together we develop new technologies and set trends in engineering, but also support each other in technically and personally challenging situations. In the same way, we celebrate our successes together when we realise our ideas on the road to the digital future.

Entry as: Students, graduates, career changers and (young) professionals.
Entry opportunities

Internships

Working student

Theses

Direct entry
Contact
Massold, Andreas
Address: Birnbaumstücke 5, 38448 Wolfsburg
Phone: +49 170 6492455
Website for applications/job offers