findusapp GmbH
-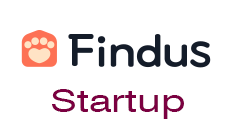 Short description
findusapp GmbH is an up-and-coming company in the field of software development. With the FindUs app, it digitises the placement of shelter animals and offers animal seekers a central animal offer as well as a matching algorithm that automatically matches their living situation with the character traits of the animals. In addition, findusapp GmbH is developing an all-in-one solution for the problems and needs of pet owners.
Headquarter
Number of employees

Branches of industry
Banks / Finance / Insurance

Services / Transport

Trade / Retail

IT / Telecommunications

Media / Web / Publishing
We are hiring

Fields of study: Front-end software development, PR, social media, design, insurance broking, web software development, back-end software development, business development.

We attach importance to:

Ability to work in a team, motivation, love of animals

Entry as: Software developer, PR manager, social media manager, designer, insurance broker, business developer.
Entry opportunities

Internships

Working student

Theses

Trainee

Direct entry
Contact
Feuersenger, Hannes
Address: Holunderweg 42, 39218 Schönebeck (Elbe)
Phone: +49 1734693252
Website for applications/job offers