mindsquare AG
-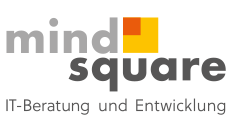 Brief description
Your IT career at mindsquare - look for the right thing and find something special! We specialise in individual software development and technology consulting in the SAP and Salesforce environment. More than 300 employees play with us in the Champions League of IT consulting and belong to the best IT consulting in Germany. Our customer base includes 24 of the DAX 30 companies and over 100 corporate groups and medium-sized businesses.
Headquarters
Locations
Germany: Berlin, Düsseldorf
Number of employees
We are hiring:
Fields of study: IT-related courses of study such as: (business) informatics, mathematics, physics, economics with a focus on informatics.
Qualifications: Fun with IT, (recent) university degree (Bachelor's, Master's, doctorate, ...)
We value: Friends instead of colleagues, personal development and excellence in our IT consulting.
Entry as: Thesis, student trainee, internship, trainee programme.
Entry opportunities:
Internships
Working students
Theses
Trainee
Direct entry
Personnel from the following disciplines/faculties are preferred:
Computer Science
Mathematics
Economics
Contact:
Timm Funke
Tel. 0521 560 645
Willy-Brandt-Platz 2
33602 Bielefeld