Capgemini Engineering
-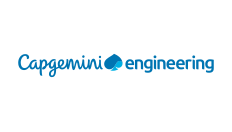 Brief description
Capgemini Engineering is a global leader in engineering and research and development services. With cutting-edge digital technologies and innovative software, we are shaping the intelligent industries of tomorrow: on the road, in the air, on the seas, in rail transport, in energy supply as well as in the fields of life science, telecommunications, semiconductors, electronics and finance.
Headquarters
Number of employees
We are hiring
Fields of expertise: Aerospace, automotive, transportation, communications, software, energy, life sciences, semiconductors and consumer goods.
Qualifications Subject-specific requirements, Fluent German & English, and strong communication skills.
We value: Out-of-the-box thinkers, team players and energy carriers who are quite keen on responsibility and development. At the same time, a degree or technical training is the perfect basis for joining us.
Entry opportunities
Internships
Working students
Theses
Direct entry
Our offers are aimed at students and graduates of the following faculties
Electrical Engineering, Information and Communication Technology
Computer Science
Mechanical Engineering
Natural Sciences
Process and Systems Engineering
Economics
Contact
Coulmann, Hannah
Frankfurter Ring 8180807 Munich
0176 73242170
https://www.capgemini.com/de-de/karriere/karrierewege/capgemini-engineering/