Dr. Dornbach & Partner Treuhand GmbH
-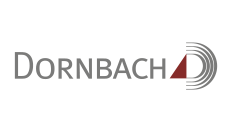 Brief description
DORNBACH is a group of companies operating nationwide in the fields of auditing, tax, legal and management consultancy. The Dessau-Roßlau and Lutherstadt Wittenberg locations are embedded in the nationwide DORNBACH Group network of 20 locations with over 500 employees throughout Germany. In this way, we combine our individual expertise and support on site with the strength and know-how of a nationwide group of companies.
Headquarters
Locations
Germany: Dessau-Roßlau and Lutherstadt Wittenberg
Employees
We are hiring
fields of study: Economics
Qualifications: Bachelor, Master
We value: Team spirit, willingness to learn and take responsibility, confident appearance, an independent, process-oriented way of working with high quality standards and personal responsibility, confident handling of MS Office.
Start as: Audit and tax assistant
Other: We offer: DORNBACH Academy, corporate benefits, company pension scheme, company events, individual working time models, flexitime arrangements, home office, anniversary bonuses, permanent employment contracts, etc.
Entry opportunities
Internships
Working students
Theses
Trainee
Direct entry
Our offers are aimed at students and graduates of the following faculties
Kontakt
Janine Friebel
Address: Antoinettenstraße 37, 06844 Dessau-Roßlau
phone: +49 340 800 15 20
https://karriere.dornbach.de/stellenangebote.html