Salzgitter AG
-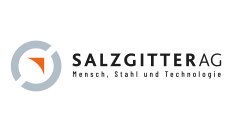 Short description
For more than 150 years, we have stood for innovative and sustainable production of steel and technology products. Together with committed partners, we focus on circularity, i.e. sustainably produced products and cleverly planned recycling. Our largest site is in Salzgitter, just south of Braunschweig. There we offer numerous opportunities to work on exciting projects during your studies or as a trainee or young professional.
Head office
Locations
Germany: 50 locations, including Salzgitter, Peine, Ilsenburg, Brumby, Hanover, Bielefeld, Mülheim an der Ruhr, Dortmund
Worldwide: including USA, Brazil, France, Italy, India, China, Kenya.
Number of employees
Germany: 20,000
Worldwide: 25,000
We are hiring
Fields of study: Electrical engineering, information and communication technology, computer science, mechanical engineering, natural sciences, process and systems engineering, economics
Qualifications: commercial or technical training, bachelor, master, doctorate
We value: Initial professional experience in the form of internships and theses, communication and teamwork skills, sense of responsibility, creative drive
Start as: Apprenticeship, dual study programme, internship, student trainee, thesis, trainee, direct entry.
Entry opportunities
Internships (over 100, details on the length of the internship can be found in the respective advertisement)
Working students (more than 100, preferably during their studies)
Theses (over 50, details can be found in the advertisements)
Trainees (over 20, usually with a duration of 24 months)
Direct entry (over 50, at almost all our locations)
Our offers are aimed at students and graduates of the following faculties
Electrical engineering, information and communication technology
Computer science
Mechanical Engineering
Natural Sciences
Process and Systems Engineering
Economics
Contact
Rottwinkel, Markus
Address: Eisenhüttenstr. 99, 38239 Salzgitter
Phone: +49 5341 213324
https://www.salzgitter-ag.com/de/jobs-karriere.html