CE cideon engineering GmbH & Co. KG
-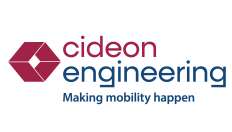 Brief description
With our 120 employees, cideon engineering fulfils demanding tasks in the field of rail vehicle development. Our colleagues in the areas of project management, design, technical calculation, system engineering, functional development, technical editing, on-site engineering, consulting, assessment and approval management are distinguished by their expertise and experience. We are an internationally active company and are always looking to expand our team.
Headquarters
Locations
Germany: Bautzen, Chemnitz, Dresden, Leipzig, Essen, Remote
Number of employees
We are hiring
Fields of study: Electrical engineering and information technology, computer science, automation technology, mechanical engineering, industrial engineering
Qualifications: Technician, Bachelor, Diploma, Master (also drop-outs).
We value: Motivation and personal responsibility
Entry as: Students, drop-outs, graduates, career starters, career changers, long-term professionals.
Other: Potential is multi-faceted. We offer you career entry and advancement opportunities and tasks that suit you.
Career entry opportunities
Internships (at least 3 months, full-time, every semester)
Working students (between 10 and 20 hours per week, all year round)
Theses (with a completed internship)
Direct entry (at any time, also for drop-outs, graduates or career changers)
Our offers are aimed at students and graduates of the following faculties
Electrical Engineering, Information and Communication Technology
Computer Science
Mechanical Engineering
Economics
Contact
Nancy Müller
Olbernhauer Str. 5, 09125 Chemnitz
Phone: +49 152-54796698