Hermes Fulfilment GmbH
-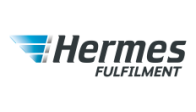 Brief description
We are Hermes Fulfilment - the Otto Group's customer-oriented warehouse and returns logistics provider. In our facilities in Germany, Poland, the Czech Republic and Switzerland, we store and pack items for shops such as OTTO, bonprix and About You. If something needs to be returned, we also take care of the returns process. Our 8,000 warehouse heroes move around 500 million goods every year: From smartphones to washing machines, from shoes to evening dresses.
Headquarters
Locations
Germany: Haldensleben, Hamburg, Ansbach, Löhne, Ohrdruf and Langenselbold
Worldwide: Poland, Czech Republic, Switzerland
Number of employees
We are hiring
Fields of expertise: Logistics, Engineering, IT
Other: We focus on team spirit, creative drive, mindfulness and diversity and are open to innovative technologies.
Contact